About Kgees Homestay
Pick a room that best suits your taste and budget
With modern facilities Kuttickattil Gardens Homestay is situated in Kuttickattil property,that is almost 2.5 kilometers from Kottayam Govt. Medical College Hospital. And very near to Kariputhattu bridge. Pulikkuttyserry-Vembaadu Lake Natural Waterways are very close to our Homestay.We can reach Kumarakom, Pathiramanal, Thannirmukkam, Alleppy by travelling through this way. You can enjoy your vacation tension-free with our family with homely food and modern facilities.
Kuttickattil gardens Home Stay offers peace, privacy and pure relaxation to the guests. Home Stays presents an atmosphere of a home away from your home. Home Stays in Kerala offer a place to relax and dream in with loving care and delicious Kerala food. Home Stays gives you an opportunity to enjoy Kerala nature and homely atmosphere. Almost all Home Stays are situated quite away from the rush city and heavy traffic. Traditional Home Cooked Kerala foods are the main attraction of our Home Stay.
Facilities
Land and Accessibility
The place is well-connected by Road and Waterway. Tourists can easily access destinations like Vembanad Lake, Thannirmukkam, Alapuzha ,Kumarakom etc by Boat. Besides, excellent road connectivity ensures easy access to several tourist-hot spots in the hilly regions. Boat and car can be arranged immediately for tourists on demand. Kottayam Govt. Medical College Hospital , which is just 3 Kms from here, provides emergency medical care, if needed. In addition, Trinity Ayurvedic Hospital situated 2 Kms from the home stay is an excellent centre for all types of Ayurvedic treatment.
The surrounding areas are known for their pristine village atmosphere free from all types of pollution. St. Alphonsa Birthplace at Kudamaloor and the Shrine of Blessed Kuriakose Elias Chavara at Mannanam are two famous pilgrim centres situated within a 2km radius of the proposed home stay.
In front of the home stay lies a 5 acre-stretch of paddy field owned by Kuttickattil Family. Since rice and fish are farmed here in rotation once a year, tourists can see it for themselves and learn about it besides savouring the natural and scenic beauty of the place. This encourages the visitors to walk about freely under the shade, making the stay pleasant and enjoyable.
The garden and the fish pond situated very close to the house create a really nice atmosphere. The guests can enjoy swimming, fishing (both net fishing and hook & line fishing) and rowing in the backwaters. Also there is a flight of beautifully built steps (ghat) leading down to the National Waterway in backwaters.
A spacious car-park with an outhouse for Drivers to stay and rest has also been arranged. The Compound Wall, Fencing and Gate ensure the safety and security of the tourists.
LOCATION
The proposed home stay is located 8kms from Kottayam in 'Kuttickattil' property near Karipputhattu Bridge at Arpookara, west of Mananam Pulikuttishery Road and east of Pulikuttishery-Maniyaparampu National Waterway.

BUILDING
The proposed home stay, renovated without spoiling its old architectural grandeur, has 4 Bedrooms its includes 2 A/C DELUXE ROOMS & 2 NON A/C DELUXE ROOMS for tourists. In Special Case Maximum 15 Members ( 1 Group ) can be accommodates with the Extra Beds.The building has a plinth area of 190 sq.m and looks majestically impressive with its well-maintained cellar, attic, in-built wooden chambers (Arayum Nirayum) and outhouse. The outhouse alone measures 38 sq.m. Facilities such as TV, fridge, washing machine, internet and newspaper have been arranged in the house for common use.
FOOD
Traditional Kerala dishes like Appam, Kappa (steamed tapioca) Chicken, Duck and Pearl-spot are served here. Those who prefer to cook food on their own are free to use the facilities available here.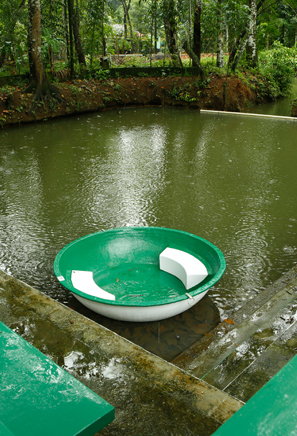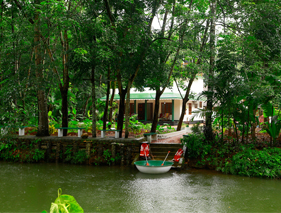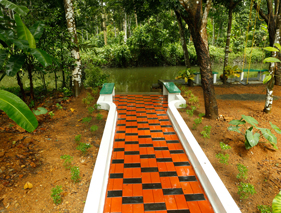 Kgees Homestay Values
Pick a room that best suits your taste and budget
You have a choice to choose Tea or Coffee or Milk. Start your day with a healthy Veg breakfast and we treat our guests with traditional kerala style Homely food.
Free wireless high-speed Internet in the lobby and in all the rooms
Good & Safe Parking in our compound with Drivers Rest Room facilities.
Testimonials
Pick a room that best suits your taste and budget
"Perfect green family stay"
Very nice location, a bit out of town but easy to reach. Located in a green area/garden, directly next to a river of the backwaters. Perfect! Very friendly and helpful owner who had lots of recommendations what to do.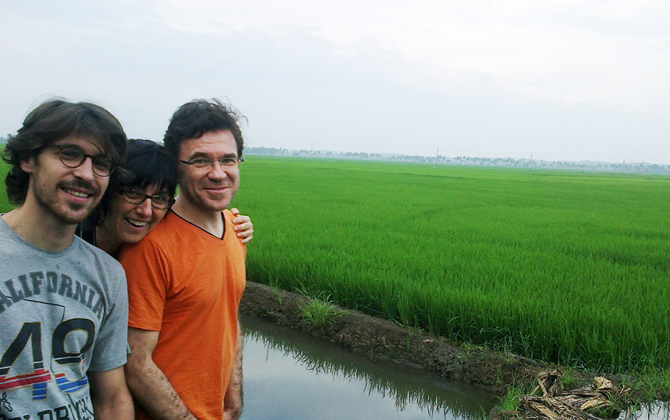 Calm & Cool Backwater Homestay close Kumarakom  , Kottayam
An exclusive home stay running on a beautiful backwaters of Kumarakom. Staying at Kuttickattil Gardens Home stay is an excellent opportunity to enjoy a real Kerala experience in fascinating (picturesque) location with caring family to look after you. It is a special place as it provide something different especially ,those who prefer small and friendly place, and could just be a perfect place for a traveler. .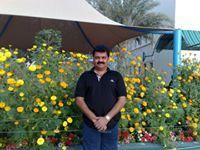 Ahammed ktk -
Kannur, India